Provides natural therapies at Picnic Point NSW and surrounding suburbs, including Foot and Hand Reflexology, Maternity Reflexology, Indian Head Neck and Shoulder Massage, Reiki, biomechanical assessments and custom-made support Orthotics
---
I was thrilled that the Hon Wendy Lindsay MP, State Member for East Hills and Councillor George Zakhia Canterbury Bankstown Council attended my clinic at Picnic Point during Small Business Month.
They both took time out of their busy schedules to visit and support all small business owners in the Canterbury Bankstown LGA during Small Business Month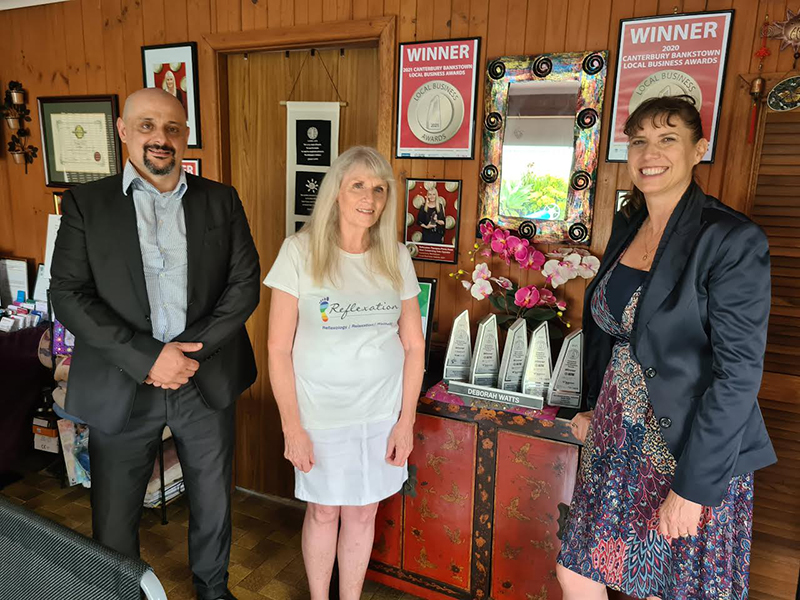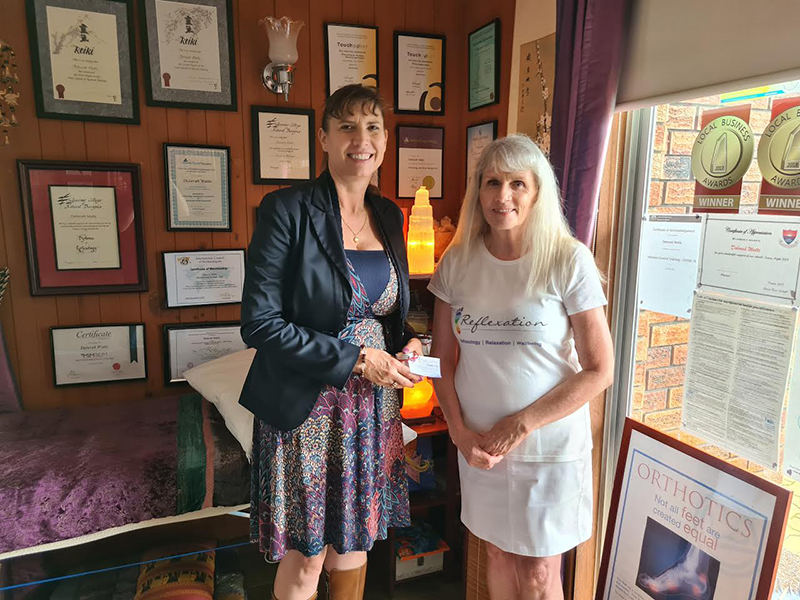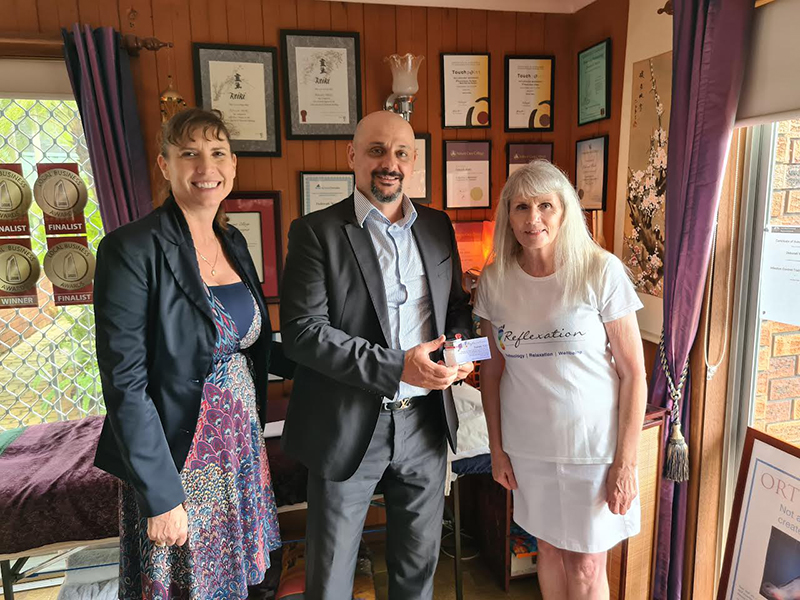 ---
Until you can have an awesome face-to-face reflexology session with me, why don't you consider a short at-home reflexology session?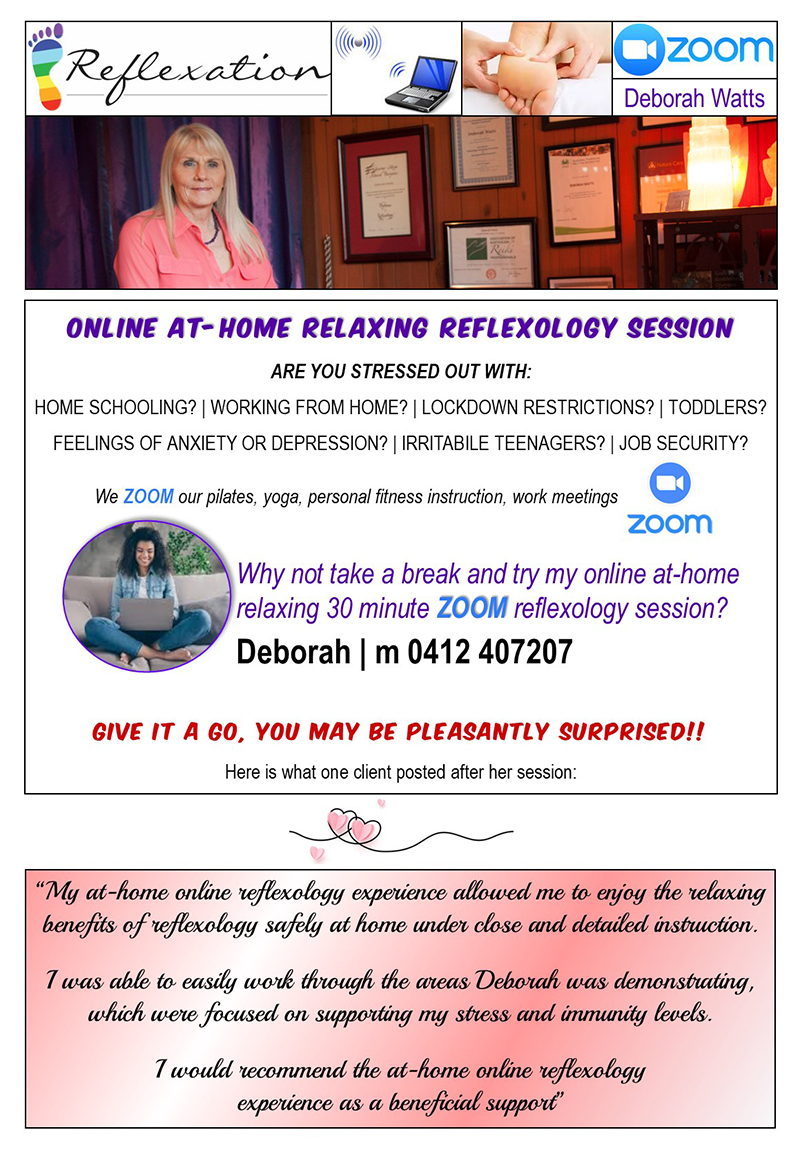 Reflexation Natural Therapies Picnic Point is a multi award winning home-based clinic, offering a diverse multicultural cohort a range of natural therapies to treat and educate them in relation to their own healthcare and wellbeing.
Owner/operator Deborah Watts, an accredited Reflexologist, is a professional member of the International Council of Reflexologists (ICR) and Fellow of the Australian Traditional Medicine Society (ATMS). Deborah's specialty is Reflexology. Other therapies performed include Indian Head Neck & Shoulder Massage, Reiki, foot care for various foot disorders, biomechanical assessments and custom-made foot orthotics.
Her vision is to contribute, and educate consumers in, the improvement of their health and wellbeing. Deborah also aims to educate people on taking responsibility for their own health.
Deborah is a proud member of the Canterbury Bankstown Chamber of Commerce (CBCC).
Reflexation is a five-times winner of the Canterbury Bankstown Local Business Awards and is currently a finalist in the Australian Small Business Champion Awards 2021
Give Deborah a call to discuss your health and wellbeing requirements
m 0412 407 207
Click here for my short videos
Reflexology and Stress Management
Click here for my blogs:
Your health and wellbeing through the eyes of a reflexologist
Reflexology for nursing home residents with mild dementia
NOW OFFERING ONLINE AT-HOME RELAXING REFLEXOLOGY SESSIONS DURING LOCKDOWN!!
FROM STRESS TO CALM
Enjoy a relaxing reflexology experience in our 30-minute online session. I will take you step-by-step through a self-help sequence and provide you with relaxation tools you can use on yourself. Your session can be either foot reflexology or hand reflexology.
Reduce your stress levels and boost your immune system.
Until you can have an awesome face-to-face reflexology session with me, why don't you consider a short at-home reflexology session?
---
2021, 2020, 2018, 2017 & 2015
CANTERBURY BANKSTOWN LOCAL BUSINESS AWARDS
REFLEXATION - THE WINNER
Media Release:
"As she celebrated another award, Deborah Watts said all the hard work she has put into establishing her own business is worth it. I love what I do, she said.
Her Reflexation Natural Therapiesat Picnic Point won another award again as the Most Outstanding Sole Operator at the prestigious 2021 Canterbury Bankstown Local Business Awards"
In accepting her award, Deborah dedicated the award to her loyal clients for their continued support over the years, especially during Covid-19.
During his address to the businesses on the night, the Mayor of the City of Bankstown, Clr Khal Asfour stated that there are 36,000 businesses and over 381,000 residents in our LGA. The largest LGA in the State of NSW and the 4th largest in the country. There was hot competition for these awards.
---
2021, 2020, 2019, 2018, 2017, 2016, 2015, 2014, 2013
AUSTRALIAN SMALL BUSINESS CHAMPION AWARDS
Finalist
---
2021, 2020, 2018
WESTERN SYDNEY AWARDS FOR BUSINESS EXCELLENCE (WSABE)
Finalist
---
NATURE & HEALTH ATMS INDUSTRY AWARDS
Highly Commended - Practitioner of the Year
---
GO WEST AWARDS
FINALIST in the category of Small Business
---
2021, 2020, 2019, 2018, 2017, 2016, 2015, 2014 & 2013
LOCAL BUSINESS AWARDS
FINALIST in 2 categories:
Outstanding Business Person of the Year
Business of the Year 2021, 2020, 2018, 2017, 2015
---
MEDIA RELEASE
A Picnic Point natural health clinic has been named Canterbury Bankstown's top Outstanding Sole Operator.

Reflexation was named the winner of the "Outstanding Sole Operator" Award at the 2021, 2020, 2018, 2017 and 2015 Canterbury Bankstown Local Business Awards

Owner. Deborah Watts. who has been operating her business since 2002, was thrilled with her recent award. 'This award is extra special this year, considering the impact of Covid-19 on all our businesses. I am very grateful for this recognition of the hard work in building a successful clinic" Ms Watts said.
"Natural therapies is an area that's growing. with more and more people tuming to reflexology and getting positive results. so there's definitely interest in this area.

"I was delighted to be considered a finalist. so to win is absolutely fantastic."

"Much of the successes of our local businesses like Reflexation is due to the hard work that goes on behind the scenes. which isn't always easily measured through profit margins".
---
I am a Fellow and professional member of the Australian Traditional Medicine Society (ATMS), International Council of Reflexologists (ICR) and an accredited Reflexologist. My therapies include Reflexology (including Maternity Reflexology), Reiki (Second Degree), Indian Head/Shoulder Massage, biomechanical assessments and custom-made foot support Orthotics.

I also actively pursue my ongoing commitment to professional development by attending specialty workshops and courses (see My Accomplishments Below). I believe that Reflexology may assist in the movement of the energies in the body and therefore may possibly reverse an illness before it physically manifests.

I will tailor a treatment to suit you, taking into account any health problems or conditions that you may have.
Reflexation is dedicated to promoting the wellbeing and comfort of others by:
Providing timely service
Ensuring a relaxing atmosphere
Listening to the client concerns
Treating each client with respect and compassion
Giving honest feedback
Visit your local Reflexologist at Picnic Point NSW and receive quality reflexology treatments and do away with travelling to the city and negotiating traffic.
Every new client receives a small gift to take home
---
Services Available
Why don't you pamper yourself with a:
Relaxing, Therapeutic Reflexology Treatment
Balancing Reiki Treatment
Seated Indian Head & Shoulder Massage
custom-made Foot Orthotics/Orthotic Therapy
Why not try one of my rejuvenating packages or have your own custom orthotics made to your prescription for a fraction of the cost of other custom made orthotics.
---
Wellbeing Policy
I respectfully ask that all clients are at least 48 hours clear of any fevers, viruses and sickness symptoms including diarrhoea BEFORE attending appointments at this clinic.
I completely understand that we all become ill from time to time, so please do let me know if you are unwell and need to reschedule as soon as you can.
NOTE: All clients will need to complete a Covid-19 Infection questionnaire before I commence any treatments. Both therapist and clients will also be wearing face masks while Covid-19 is still a threat to our community. Your temperature will also be taken on arrival and I reserve the right to reschedule your appointment if you are feeling unwell.
I must work to minimise any risk to the health and wellbeing of fellow clients, some of whom have ongoing conditions with low immunity, as well as my own health and that of my family.
Thank you for your understanding.
Cancellation Policy
Arrival in clinic
Please arrive on time for your scheduled appointment. Treatments for any late arrival clients will still finish at the allotted time with the same fee.
Cancellations
Please provide 24 hour notice for cancellations or changes of all appointments. Cancellations made with less than 4 hour notice will be charged 50% of scheduled service. Cancellation within one hour of the appointment time or 'No Shows' will be charged the full service charge. This policy also applies to gift certificates.
Thankyou for your understanding.
Clinic Appointment Policy
Only one client in the clinic room at a time while I am providing treatment. Your treatment will be maximised if both client and therapist are not distracted. If you arrive with anyone else, they are welcome to grab a coffee at a cafe while you have your treatment.
The exception to this is when a carer is required to be with the client.
Child Policy
Unless your child is receiving a treatment, I do not allow children in my clinic room while working with clients due to distractions. Apart from WHS implications, it is very hard to concentrate and provide the best treatment for you when your child is in the clinic treatment room. Please reschedule if you have babysitting difficulties.
Thank you for your understanding.
Mobile Phones
Reflexation strives to provide an uplifting, relaxing and memorable experience for all clients. Your relaxing treatment will be more therapeutic for you if you choose to leave your issues at work or at home by turning your mobile onto silent for the short time you are in clinic. However, there are always emergency situations where you will of course need your mobile switched on.
Operating Hours (By Appointment Only)
Monday to Friday
8:30 am to 6:00pm

Saturday
8:30am – 1:00pm
---
***SPECIAL PAMPER PACKAGES AND GIFT VOUCHERS***
BLISS PACKAGE - relaxing back, neck and shoulder Swedish massage, aromatherapy footbath soak with essential oils and therapeutic reflexology treatment including 15 mins of precision energetic reflexology (2 hours of bliss) $185.00
PAMPER PACKAGE - relaxing aromatherapy footbath soak with essential oils, therapeutic Reflexology treatment and balancing Reiki $160.00
HEAVEN PACKAGE - Indulge in an Indian Head Neck & Shoulder Massage and pampering aromatherapy hand reflexology treatment with exfoliation and nourishing body soufflé massage $140.00

RAINBOW PACKAGE - enjoy a balancing Reiki session to balance out your whole energy system and bring about harmony with Tibetan singing bowl energy to complete your balance $90.00

REJUVENATING PACKAGE - experience a relaxing aromatherapy footbath soak with essential oils, therapeutic Reflexology treatment with foot massage and an energetic balancing Precision Reflexology treatment $90.00.

Want to avoid the crowds or perhaps you want to buy that special someone a lasting present that can be tailored to suit?
A therapeutic and pampering Reflexology treatment and foot massage
An Indian Head Neck & Shoulder to melt away those tension headaches & aches
A Relaxing Swedish Massage
A deeply relaxing Reiki treatment
Pensioners may receive discount on request. Conditions may apply
Mission Statement
To utilise the natural therapies of Reflexology to relax and revitalise you, inducing renewed vigour, clarity of mind and strength of spirit.
---
My Accomplishments
2021, 2020, 2018, 2017, 2015 - WINNER Canterbury Bankstown Business Awards - Outstanding Sole Operator
2021, 2020, 2018 - Finalist Western Sydney Awards for Business Excellence (WSABE)
ATMS + Nature & Health Industry Awards - "Highly Commended Award" Practitioner of the Year
Go West Champions of the West - Finalist Small Business category
2021, 2020, 2019, 2018, 2017, 2016, 2015, 2014 - Finalist Australian Small Business Champion Awards
2021, 2020, 2019, 2018, 2017, 2016, 2015, 2014, 2013 - Finalist Local Business Awards - Outstanding Business Person of the Year
Business of the Year - 5 times Finalist 2021, 2020, 2018, 2017 & 2015

I attended the 11th worldwide conference of reflexology practitioners, titled "Simply the Best". The conference was held by the International Council of Reflexologists (ICR).

I heard speakers from around the world share professional developments of reflexology in their country and the scientific research studies being conducted.

Perhaps the greatest benefit from attending the conference was the opportunity to meet and workshop with internationally-renowned Reflexologists worldwide and bring those skills back to my clinic at Picnic Point at a local level. "The exchange of ideas and techniques was exciting and stimulating".

I have also undertaken further continuing education in:
Custom made Orthotics to correct bio mechanical problems
Round About The Spine—Back Pain and Sciatica
Reflexology and the Aging Process
Reflexology and Menopause—Managing the Transition
Reflexology and Stress Management
Maternity Reflexology (fully trained in reflexology for fertility problems, pregnancy, labour preparation, birth and post natal care)
Touchpoint Round About: Stress
Cancer Care for Reflexologists
---
Testimonials
"...as a qualified health professional myself, it is difficult to find a truly talented and effective practitioner such as Ms Watts"
"Pure peace, tranquillity and sheer relaxation"

"You make my treatments so personal - it is just like being at home in my lounge room, not a clinic. You spoil me everytime"

"I am so glad I found you, an absolute lifesaver"

"Since I have been having Reflexology, I have an improved feeling of wellbeing"

"I felt the stress just melt away"

"Thank you I feel fabulous after my treatment on Saturday ....."

"I began having reflexology treatments with Deborah after a miscarriage to help my recovery and assist in getting my BP under control. I have had regular reflexology treatments since this time. In 2000 I was told by a gynaecologist that if I was to get pregnant, she would probably be terminating the pregnancy due to eclampsia because of my hypertension.

I continued to see Deborah whilst I was trying to conceive and with a history of infertility and only one previous pregnancy, this occurred quickly. I continued my reflexology treatments throughout my pregnancy and I feel that the benefits of reflexology treatments have been tremendous.

Throughout my pregnancy both my BP and diabetes were stable and despite the expectation that I would probably end up delivering my baby early due to medical complications, I delivered a health baby boy at term.

My obstetric care also included my Obstetrician, a Nephrologist and an Endocrinolist. I was viewed as a high risk patient, yet I had a trouble-free pregnancy. This was to the amazement of my doctors who had expected that I would be admitted to hospital during my pregnancy"

".......I knew I was in good hands because of Deborah's particular training in maternity reflexology. I had a very healthy baby girl and I couldn't have had a healthier pregnancy!"

"...... I found the treatment to be wonderful, I was completely relaxed and found afterwards I was not being sick and slept really well"

"I work in law enforcement which requires me to wear police issue boots for up to 12 hours per shift. Since acquiring my custom-made orthotics from Deborah Watts, I have noticed a great improvement with my feet – no more aches and pains which I had put up with for years.

I also frequent the golf course and my game has improved immensely since I had my orthotics fitted and my feet have never felt better. My general health and wellbeing has improved and I have found my feet no longer ache after long periods exercising or working.

Instead, they thank me for finally seeking treatment after 20 years of telling them I would. Living life without niggling aches and pains, not just in my feet but also my ankles, hips and back, is like walking on air every time I take a step. I also attend Deborah's clinic for regular reflexology treatments.
- Wayne – 37 years young"

"I was not familiar nor had I any experience with reflexology until September 2006 when I visited the clinic of Deborah Watts for my first reflexology treatment. Whilst I was sceptical of this treatment therapy I had several visits before I realised that these reflexology treatments were beneficial to my wellbeing.

I have continued with my reflexology sessions and on some visits I have noted a marked improvement with specific issues I have had. At one time I had an annoying right shoulder pain however at the end of the session the pain had reduced by about 50% with relief from my discomfort.

Deborah has compassion and a thorough professional approach to her treatments and brings not only reflexology to each treatment but energy healing, massaging and orthotic knowledge. In summary each reflexology treatment I receive I feel that Deborah puts her heart into my feet!

I have given Deborah permission to pass on my contact details if anyone wishes to speak with me about my reflexology treatments with her."
Ï've been struggling with my rotator cuff for years, but in recent weeks it has been particularly painful.......... My husband and I had a session with Deborah today. Tonight I find myself digging under our stairs looking for old journals ... it occurs to me I've been lifting boxes with a variety of weights without thought when two days ago I could not lift my arm ........"
---
For more information about the best services for your needs or to organise an appointment - just give us a call!
---
QUALIFICATION DETAILS
Diploma of Reflexology
Maternity Reflexology
Reiki (Second Degree)
Advanced Orthotic Therapy
Certificate IV Trainer and Assessor
Fellow and Accredited Member of Australian Traditional Medicine Society Ltd #15104
Member of Australian Reiki Connection #0334
Fellow of the Australian Traditional Medicine Society Ltd (ATMS) www.atms.com.au
International Council of Reflexologists (ICR) icr-reflexology.org
Australian Reiki Connection (ARC) www.australianreikiconnection.com.au
Accredited Member International Council of Reflexologists (ICR) #923